Thursday, 1st January, 2009
Možná byste se divili kolik majitelů AE86 by svoje auto bez váhání vyměnilo za pěkně zachovalou TE71. I když je šance sehnat takovou zachovalou 71 několikrát menší než šance sehnat 86, některým lidem se to jednou za čas povede a občas to skončí tak, jako tato čtyřdvéřová (původně) KE70. Dnešní novoroční post proto věnujeme všem hardcore fanouškům E7.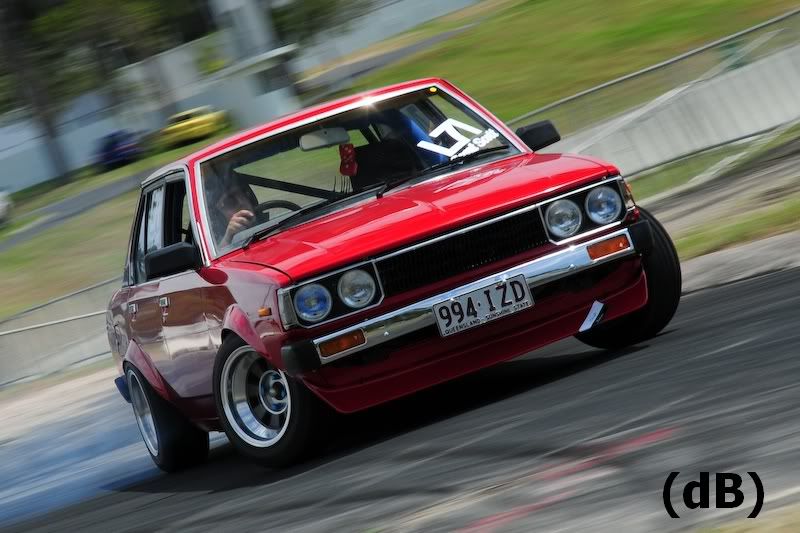 Pokud Vás auto zaujalo, tak na webu AE86 Driving Club najdete spoustu dalších fotek jak auta, tak i dílů a dalších detailů. Link na forum najdete ZDE.
Engine, Exhaust & Drivetrain:
Aw11 4age 16v Bigport – Corolla Purple spec (its a fruit)
Ae101 4agze on engine stand
– awaiting Trd 0.8mm gasket
– Ke70 triple core alloy radiator waiting to go in
Trd 0.5mm Metal Head gasket
fresh seals, bolts and stuff
Trd copy 4-1 extractors
2 1/4″ exhaust piping and Axle back 3″ megaphone (track) and $25 sports muffler (daily)
excedy 4 puck clutch – Its gay
Oil cooler kit with braided lines
Standard ke70 rear end locked (ewwwwwwwww 3.89!!!!!)
K&N Filter – garbage bin spec
10m Cressida Throttle cable
Suspension:
Cusco Camber tops
Front strut brace
8kg Tein Ae86 coilovers
T3 rose jointed LCA's
Power steering arms
Adjustable panhard rod
Rose jointed 4 link – Apex Engineering
TRD 6kg rear springs
TRD 8way adjustable shocks
Inside:
Good old australian early 80's styling – green dash and blue panels
Some old school saas wheel
Bride Low max
Cusco 6 point
The insides of a zzzzzzeebra
Lucky red dice
A (singular) doraemon
Rim collection and brakes:
14×8 -Fuck Knows Hayashi Streets (Old school ones, not off the shelf stuff)
Exterior:
Quad lights
2 Chin lips (one held together with fibreglass paste and zipties, another thats good… for now)
5000k front lights that dont give enough light to see 5 metres in front of you and burnt out both my plugs.
Future mods:
Gze needs to go in
4.3 ratio rear end…
Swaybars
Rose jointed caster rods maybe…. will see how it goes
Tags:
Aussie
,
Drift
,
E70
Posted in
Cars